About Us
We are a small town shop for all things fishing! We love helping others develop their passion for fishing, and want to be their go-to bait & tackle stop. We are continuing to expand in order to support our loyal customer base with our online shop and a new larger building.

Shop local by choosing Tackle Shack!
Our Story
I am Brendon Sutter, co-founder of Tackle Shack. My brother Ryan and I always had a dream of owning a "fishing store". So often, small bait & tackle stores have the reputation of being just that, live bait and a few bobbers. Our vision was larger.

Back in winter of 2014, my brother & I decided to begin selling product out of our basement through the internet & to local customers. About a month later we noticed a building for sale in Middlebury, made a call to the realtor, and he said we could come look at it, but are closing on it next week. We thought the dream was over here in Middlebury. That weekend, my wife and I went out to eat with our best friends, and told them our story. The husband begins chuckling and says "you probably should talk with my brother... He is the one buying the property." We did so and made an agreement to lease from the buyer, and after months of hard work from mainly my brother & immediate family, we had our grand-opening to our Middlebury doors in April of 2015.

From the beginning, I worked my regular job (purchasing for an RV company) from 6am to Noon, and then came to Tackle Shack and opened our business hours from 1pm-6pm. We operated that way for about 1 year, at which point I had become completely worn out - lost a bunch of weight, home life was poor, couldn't balance it all anymore. I decided through prayer, and with my wife's approval to go for it full-time, even with 3 little girls at home & not enough income to justify the change. So I quit my good paying job of many years, and took the leap of faith. Scary times, and rewarding times have filled our lives ever since. This small business stuff is fun & exciting! Ups and downs no doubt about it, but we love what we do, and would take the plunge all over again, anytime!

Along the way, we've had some awesome part-time help that allowed us to grow. None more key than during September 2018 when we put out a Facebook ad needing some additional part-time help. Trevor walked through our doors applying for what seemed to be a job that would be a fun little side-gig. Little did both of us know that together we would see some major growth that would ensure full-time work and a future together in the fishing industry. We are thankful for Trevor's tremendous fishing knowledge and customer service. He is an employee who every employer envisions, but is so difficult to find. Trevor has now moved into position of General Manager of Tackle Shack, overseeing the entire retail process. Trevor handles our day-to-day walk-in traffic along with placing regular restock orders & even handling your special-order requests. God knew what he was doing at that exact moment I pressed "Post Ad" to Facebook.

Fast forward to 2020! We have outgrown our building here, and some of our growth potential. We have the opportunity to move to a different location across the road in the Spring of 2021. The new facility will have much more space which means more inventory, more options for customers, new endeavors & adventures for all. Along with that move has come the opportunity to add to our Team. We are thrilled to be bringing on Mike Raber as our head of internet sales, media, and customer support. Mike needs no introduction, and comes off of an amazing 2020 season of fishing. Mike was able to finish the season as the Michigan Division Angler of the Year, a huge accomplishment! He will be able to add even more credible knowledge, depth, and resources to our Tackle Shack, and not to mention he has so many gifts when it comes to public speaking and writing.

Dustin manages our Saturday crew, which consists of Nick, Hayden, and sometimes Gabe. We may be biased, but consider our team the best in the area for helping you catch fish, and just overall friendly knowledgeable staff. Trevor M. does a lot of inventory placement & store order throughout the week, & Wyatt runs a counter part-time.

In 2023 we began to sell new boats. Polar Kraft paired with a Suzuki outboard motor is where we are beginning. It's exciting to get into a whole near arena & expanding this way will give you the customer even more options. Myron C. began working here full-time in March 2023 as our head of boat installations. Myron is very knowledgeable at everything needed on your boat. From new sonar systems, to shallow water anchors, to repowering with a new Suzuki outboard. We are very thankful for each and every customer that has ever placed an order with Tackle Shack. You truly are the reason we can do what we have always dreamed of doing, operating a fishing store. God bless you all!
Experienced, Friendly, and Passionate About Fishing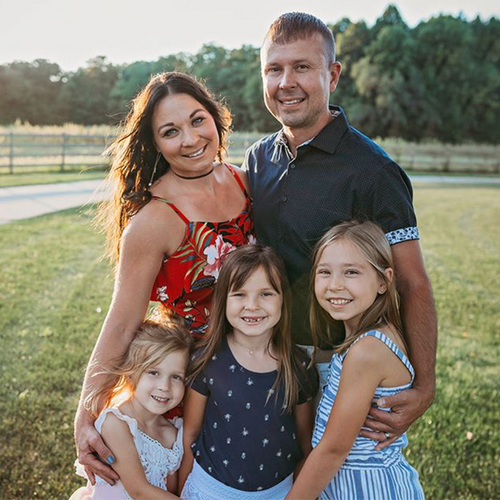 Brendon
Trevor
MIKE
Myron
Dustin